Founded in 1945, the Concord Chorus is a wonderful group of welcoming people who enjoy singing, learning excellent choral repertoire, and performing at the highest level.  Under the leadership of its music director, Dr. Kevin Leong, the Concord Chorus invites you to share in a musical experience that will be fun and fulfilling. Open rehearsals and auditions will be held on Jan. 9th and 16th. For further information, please click here.
---
75th Anniversary Video
Founded in 1945, the Concord Chorus performed its first concert in the spring of 1946 as a memorial to those lost in World War II.  Reaching its 75th Anniversary in 2021, the Chorus found itself unable to perform to live audiences because of the devastating COVID pandemic.  Because everyone was facing isolation and loss, the Concord Chorus produced this video to tell its story by connecting audiences to its deep roots in community, regional, and national life and history, to showcase its mission to offer high-quality choral masterworks from diverse periods, and, most importantly, to create joy from adversity by sharing the unifying power of beautiful music with everyone.
Join the Concord Chorus mailing list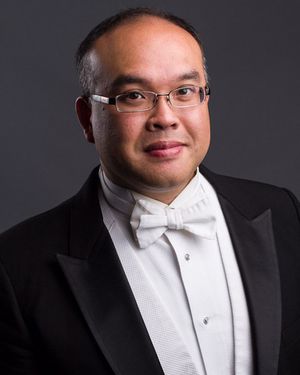 KEVIN LEONG is in his eleventh season as Music Director of the Concord Chorus. He is also Music Director of both the Masterworks Chorale and the Jameson Singers and previously served for eight years as Associate Conductor of the Harvard-Radcliffe Choruses at Harvard University, where he directed the Harvard-Radcliffe Chorus and co-conducted the Harvard Glee Club, the Radcliffe Choral Society, and the Harvard-Radcliffe Collegium Musicum.
Dr. Leong's teaching interests include presenting a wide repertoire to singers and audiences alike. His ensembles have performed in many venues around the country and abroad, and he has worked as a choral clinician with high school choruses from the United States and Canada. Dr. Leong has taught courses in choral conducting and choral literature at Harvard University and Boston University and has won several teaching awards. See more
Support Us
Amazon contributes .05% of all purchases to the Concord Chorus when you checkout from https://smile.amazon.com. Click on the Amazon Smile logo below to set Concord Chorus as your smile charity.